On Sunday 17th November we held a Frankenstein themed workshop at Kim By the Sea. This has been one of my favourite themes for exploring how creativity and destruction interweave. The first task asked the group to imagine Frankenstein from different perspectives, using Thirteen ways of looking at a blackbird as inspiration. I use, Frankenstein, as shorthand for Frankenstein's creation, as the creation is nameless. Frankenstein's ears were looked at, his skin delved into. Associations with operating theatre, made-to-measure were brought up. Then we moved into creating a creature from materials we found in a skip, everyone put forward three suggestions and we built what we could using them. @MayaChowdhry captured a creation in one tweet:
kitten head with broken mirror body, wardrobe arms and furry rugged insides
We also created a group poem based on the style of Anne Carson's poem Good looking Boy, (borrowed from the T.S Eliot reading group pdf, find it here) and here it is:
I made a mistake/oh dear. What did you do?
I meant to steal something-but I put it back/ you pushed instead of pulled?
I pushed the paint with my forefinger/ I should have known better/
I should have known better/ So what are you gonna do about it? Grow up.
I'm planning to steal something tonight-to restore the equilibrium/ prepare your fingers
prepare your pockets- I will be waiting, hanging in the balance/ stop to feel, check it's real
I'm ready, I won't disappoint you again.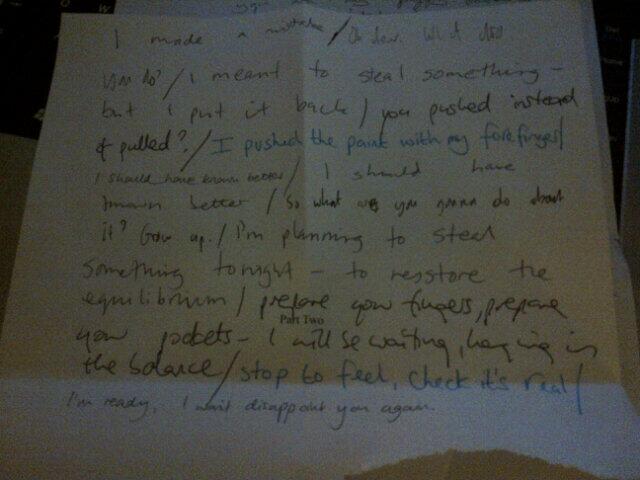 Just to end on a Frankenstein note, here is my skip creature created with these objects:
ten mouldy wooden coat hangers
a pram
a dog collar
I put a dog collar round it's neck, bright pink
Puppy-monster made of straw and bin bags
Will you grow to be a fabulous being
people will want to skin and wear you?
Will you be a plush, gorgeous pelt
or shunned, small, pushed
into a Moses basket and set to sail
I have a pram and at first, I kept it
to push you in, then realised no
pulled it apart
ransacked the soft lining for your coat
I made a skeleton for you of wooden coat hangers
scrapping the mould off as I go.